Contact Us to Book Your Fly Next Fly Fishing Adventure
Don't hesitate to reach out with any further questions you may have regarding fly fishing at Santa Maria Ranch. Please keep in mind that fly fishing at the Ranch is limited to guests guided by one of our trusted outfitter partners only; no unguided fly fishing opportunities exist at Santa Maria Ranch at this time. To Book a Trip with one of our outfitter partners, please inquire below and someone will be in touch shortly.
Contact Santa Maria Fly Fishing To Book Your Next Colorado Fly Fishing Trip On Private Waters
Contacting us is easy, either by email or over the phone. Typically, we're able to return emails within twenty-four hours, and we usually have someone available to answer the phone during the day. If you're looking to book a day of guided fly fishing on our beautiful private section of the South Platte River's Middle Fork, we're happy to help. We can set you up with some of the best fly fishing guides in Colorado, and we also work with a variety of outfitters and guide services. Unfortunately, we're unable to accommodate anglers overnight, so you'll need to be off the property by sunset.
To best preserve our section of the river and to ensure that every angler can enjoy their day away from other crowded Colorado streams, we do limit the number of people allowed on the water each day. That means spots fill up quickly, so be sure to contact us well ahead of your planned trip.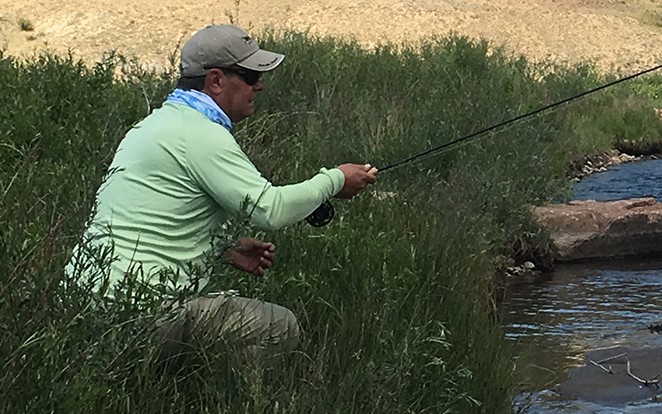 Where To Find The Private Fly Fishing Waters At Santa Maria Ranch In Colorado
The Santa Maria Ranch is just over three miles north of Hartsel, CO on County Road 439, which is a gravel road. You'll find Hartsel on Colorado Highway 9 about eighteen miles southeast of Fairplay, CO. If you're coming from the Denver area, the quickest way is to take Highway 470 to Highway 285 and follow that to Fairplay where you'll pick up highway 9. Take that down to Hartsel, CO where you'll find County Road 439 heading north out of town.